PORC OUT 2012 happened at Bourbon Steak DC the other sunday.  It was a rainy day but it didn't stop pork lovers everywhere to show up.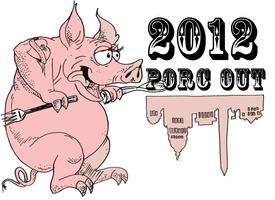 Split Roasted Whole Pig * Buffet Style Dining * Oyster Bar* 
Grilled Corn on the Cob *Warm Jalepeno Cheddar Corn Bread *
Taco Stand * Home Made Soft Serve Ice Cream *
Warm "Everything Cookies *
and much more!!
Plate number one of many…
Delicious corn, ribs, roast pig.. mmmm pig skin!!!!
And the famous Pork Tacos!!!
I got mine with everything on it… MMMM…
And the dangerous vodka soaked watermelon.. I had endless slices… oopsies ;]
More more more… also had beer, wine, spiked lemonades and punches, etc.. SOOO GOOOOD..
They also had hot dogs in a cute OG hot dog cart outside in the rain haha – same ones we ate the other day.
Bourbon Blind Tasting…  how well do you know your bourbon?
Dessert Sundae Bar time!!! WOOT
Strawberry and Chocolate Ice Cream with an everything cookie, boozey Cherries, marshmallows and a Bacon Caramel! NOM
And since W and I got there a bit late we missed the oyster bar… so Chef Sobel was sweet enough to bring me out some :D NOM
YAYAYAYAY… can't wait for next year :D  Went back home and slept off the booze.. only to go out drinking all night hahahaha – I love pig. Life is good.