Oh noes!!! I'm so behind. But I will not let this foodie blog fail like my million others, once started and never finished. NO, this will be my baby :]
I started off the day with my tbs of Chia Seeds & a guava. No picture taken. Lazy.
Then, Brunch…
One of my favorite places to go for brunch (other than dimsum or tea time)
SEL DE LA TERRE (others include, COACH GRILL, BULLFINCH'S & AQUiTAINE BIS)
Black Coffee <3

Pastry Basket
(It's different daily, today's was chocolate crossiant, blueberry muffin and the most delicious donut cinnamon muffin cake bread thing that was PIPING HOT and nom-nicious ever!!! The waiter and I had a super long convo about how amazing they were…)

Omelette of Maine tomato, piave vecchio and andouille sausage; sweet pepper, onion and potato hash

DUCK CONFIT on multigrain with sautéed cabbage, carrots, black currant chutney and curry aïoli and HOMEMADE CHIPS :D

2 Orders of the APPLEWOOD SMOKED BACON (I've been craving it like CRAZY)
HEHE, brunch ended with the waiter (he was super nice and talky the whole time) "BY THE WAY, I'm single.. so if you ever wanna go out sometime let me know… *walks away quickly after a smile" AWW, cute. I bet I was a lot older than him tho. HAHA…
New Kitchen Goodies..
Measuring Cups

Measuring Spoons

(and yes I bought myself 3 Taro Gomi coloring books I LOVE THEM)
I also got cute new plates but I forgot to take a picture… they have gold trim: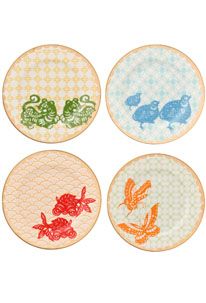 I LOVE buying kitchenware, utensils, glasses, plates, etc… so it's bad when I go into Anthropologie, Williams Sonoma, etc… I GO NUTS.
Dinner was COOKED BY MEEEE :]

I love using the grilling pan :] HEE HEE… I have a CIRCLE one (above) and a square one!!

Curried Ginger Garlic Chicken Wings

Acorn Squash

Corn + "A Cai" I duno what it's called in English…
Watched Population 436 while eating a guava w/ sour plum powder & 1/2 Pomelo (yay they're back in season)
I also had other misc. snacks in the middle of the night *cough* like a passionfruit meringue tart, 3 cranberry chocolate cookied, 2 chocolate chip cookies, and 3 little star shortbread cookies :] OHH and like a gazillion green bean pastey thingies. MMM to chinese snacks <3   
I duno why but I didn't end up sleeping til about 5am :T so bad….
ps. SOME of my goodies from the other day:


Too lazy to list them right now since I'm behind in posting…